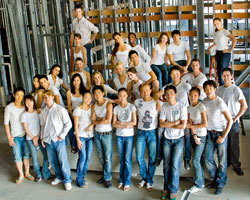 Booking Information:
Scott Black
Managing Director
1212 East 45th Pl.
Tulsa, OK 74105
Phone:
(918) 749-6030
(918) 407-6809

Email:
Website:
Availability:
September - May

Fees:
Tulsa Ballet II "Journey Through Dance" Multi-Media Educational Program and Mixed Repertory - $8000 - $10000
Tulsa Ballet Main Company - $35,000 - $50,000
Bio:
Tulsa Ballet is a non-profit, professional ballet company whose mission is to serve as an essential asset of its extended community through internationally acclaimed artistic excellence and exmplary education and outreach. The company is committed to preserving the tradition of classical ballet, promoting the appreciation of contemporary dance, creating works of superior and enduring quality and educating through exceptional training, performances and outreach programs. Tulsa Ballet was founded in 1956 by husband and wife, Roman Jasinski and Moscelyne Larkin - dancers internationally known for their style in the grand Ballet Russe tradition, and musician Rosalie Talbot. Tulsa Ballet consistently brings the finest works in classical and contemporary dance to the Oklahoma stage, giving audiences an opportunity to view truly world class ballet in the heartland of America. Tulsa Ballet employs a multi-cultural roster of dancers, attracted by the challenging and varied repertoire, as well as the company's reputation for engaging the world's best choreographers.
In addition to its performances, Tulsa Ballet now offers a multimedia educational program through its company, Tulsa Ballet II. Titled Journey through Dance, the program explores the history and evolution of dance, and can be presented with a mixed repertory program.