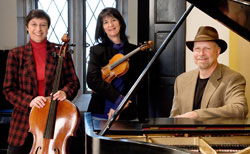 Booking Information:
PMI
2913 N. Wild Mountain Road
Tulsa, OK 74127
Phone:
(918) 245-2982

Email:
Website:
Availability:
Year round

Fees:
Formal Concert of Popular, Classical or Contemporary Repertoire - $2000-$4000
Mini concert/Informance - $1000-$1500
Educational concert - $1000-$1500
Bio:
"The playing is incisive, full of subtle undercurrents?.and bursting with life." -The Strad
Flexibility and inventiveness are hallmarks of Trio Tulsa. Inspired by years of experience performing throughout the world they are able to delight audiences with insightful and entertaining commentary. Trio Tulsa will work with you, adapting their programming to suit your needs. Their fresh, fun, and innovative approach will help build your audience.
In residence at The University of Tulsa School of Music, Trio Tulsa is devoted to the performance of the great classics of the trio repertoire and joyously presents little-known gems and undiscovered masterpieces. "Tango, Etc." and "Motion in Music" are examples of programs loved by audiences of all ages. "I didn't like it I Loved it!" responded one enthusiastic child in a note of thanks.
Available for traditional concerts, mini-concerts, master classes, kid-friendly educational presentations and community-outreach activities for promotional purposes.