Selby Minner and Blues on the Move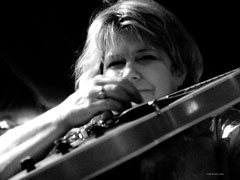 Booking Information:
Selby Minner
701 D.C. Minner Street
Rentiesville, OK 74459
Phone:
(918) 855-0978

Email:
Website:
Availability:
Year round
Fees:
Concert/Dance $700 -  $2000
Mini concert /dance $450 - $800
Master class $225 - $475
Workshop $175- $300
Bio:
Selby is a highly esteemed blues singer/musician who toured non-stop for 12 years with blues legend D.C. Minner before settling at his birthplace of Rentiesville, Oklahoma. There they established the Down Home Blues Club and founded the Dusk til Dawn Blues Festival around 1990, both which continue on to this day. The Festival has gained national attention, and presents more than 200 blues musicians for three days every labor Day Weekend.
Selby grew up on the East Coast and followed her passion for performing blues music to Berkeley where she first competed with and later joined forces with the older blues man. "You are my best student," he said. She is carrying on the tradition they forged together over 31 years, D.C. having worked with legends Feddie King, O.V. Wright, Chuck Berry and Bo Diddley. The music is Blues, Rhythm and Blues and early Blues based rock. Johnny B Goode, The Thrill is Gone, Lean On Me, My Girl, Stand By Me - standards which have defined the blues - roll off the stage - and originals as well.
Selby has been featured in Living Blues Magazine, on Black Entertainment Television, the Oprah Winfrey Show, OETA and NPR. She has performed with Albert Collins, Lowell Fulsom, Drink Small, Little Johnny Taylor, Hubert Sumlin, Tony Mathews, and opened for Koko Taylor, Albert King, Bobby Bland and Buddy Guy among others. She is poised and ready to carry on the band with it's warm and enthusiastic performances, that is loved by people of all ages, and covers a full range of beats, melodies and emotions.