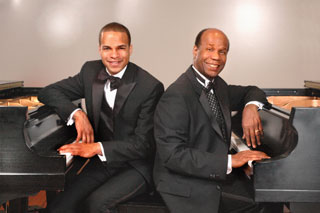 Booking Information:
Barron Ryan
7380 S. Olympia Ave
Tulsa, OK 74132
Phone:
(918) 688-4786

Email:
Website:
Availability:
Year round
Fees:
Music by Mavericks -$4,000?$6,000
Classic Ryan & Ryan - $4,000?$6,000
Bio:
Ryan & Ryan is a dynamic father-son piano duo that blends classic and contemporary music into an enthralling concert experience. From Rachmaninoff to Gershwin to Billy Joel, Donald and Barron Ryan combine their talents to create a dazzling blend of old and new schools. As a performing team, Donald and Barron amaze audiences with their skill, expressiveness, and love of making music. Their experience in classical, jazz, ragtime, hip-hop, and funk allows them to create exciting new music and give fresh interpretations of old. To sum it up, they make music that inspires.
The 'Music by Mavericks' program features selections by American composers or composers strongly influenced by America's music ? those who dared to incorporate upcoming trends such as jazz, rock, funk, and even hip-hop. It includes jazz standards, film soundtrack music, popular music from the 60's through present day, and Gershwin's Rhapsody in Blue.
'Classic Ryan & Ryan' is their classical music program. The duo not only play works by Dukas, Rachmaninoff, Milhaud, Copland and Gershwin, but they also tie in education as well, giving interesting bits of background information on these works.