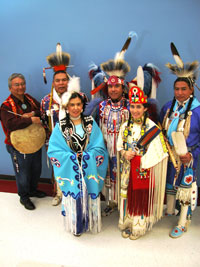 Booking Information:
Kevin Connywerdy
1200 W Brooks
Norman, OK 73069
Phone:
(405) 360-2532 (Kevin-day)
(918) 230-6023 (Kevin-evening)

Email:
Availability:
Year round

Fees:
Full Concert $5000 - $10000
Mini Concert $1000 - $2000
1-3 Person Performance $250 - $1000
Storytelling, Singing, Demos $250 - $1500
Workshops added to performances $150 + supplies
For workshops alone, please see Kevin Connywerdy, Artist in Residence, Oklahoma Arts Council
Bio:
The Oklahoma Fancy Dancers are a group of powwow champions that come together to form a professional and highly acclaimed Native American dance troupe. All the dancers are enrolled tribal members, most of whom are full-blood, representing various tribes. The award-winning dance regalia worn by each dancer is brilliantly colorful, traditional and representative of the dancer's tribe and dance performed.
The dance shows are educational, informational, entertaining, and showcase a variety of traditional American Indian tribal dances and present cultural information. Widely known for the educational elements of their performances, the Oklahoma Fancy Dancers have traveled the world and earned a stellar reputation for excellence and authenticity. Performances are available for any size group and can be tailored according to the needs of the presenter.