Oklahoma City Philharmonic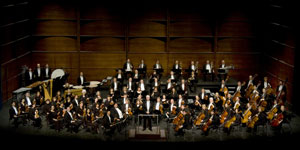 Booking Information:
Kris Markes
General Manager
Oklahoma City Philharmonic
428 W. California, Suite 210
Oklahoma City, OK 73102
Phone:
(405) 232-7575

Email:
Website:
Availability:
September through May

Fees:
Full Orchestra $14,000 - $30,000
Bio:
The Oklahoma City Philharmonic Orchestra, established in 1989, is the cultural flagship of Oklahoma City and stands ready and able to provide the best in professional orchestral music for its community and state. The "Phil" as it is often called, presents a variety of concerts and programs that appeal to audiences of all ages and musical tastes. Under the artistic leadership of music director and conductor Joel Levine, the orchestra offers classics, pops and family-oriented presentations for its touring program, and when possible, takes the talents of world-class concert artists on the road for run-out performances.