OK City Chorus of Sweet Adelines, International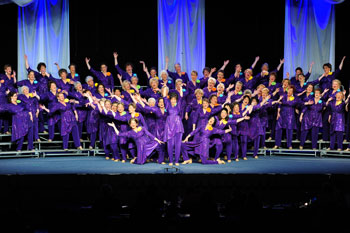 Booking Information:
(405) 720-SING
Phone:
(405) 720-SING

Email:
Website:
Availability:
Year-round
Full chorus available evenings and weekends only
Quartets and small ensembles may be available on weekdays
Fees:
Performance fees vary depending on the size you desire, the location and length of the performance. This is arranged through our Events Coordinator. Please call at (405) 720-SING or submit your request through our contact page, http://okcity.org/contact-us.html.
Bio:
The OK City Chorus of Sweet Adelines, International has a 50-plus year history of providing outstanding entertainment in and around the Oklahoma City metro area, nationally, and internationally. The OK City Chorus is a member of Sweet Adelines International, a highly respected worldwide organization of women singers committed to advancing the musical art form of barbershop harmony through education, competition and performance. The OK City Chorus and quartets sing exciting a cappella, four-part harmony music, barbershop style. The music includes special arrangements of today's ballads, classic and gospel songs, popular show tunes, and mainstream music.