Maurice Johnson, An American Jazz Artist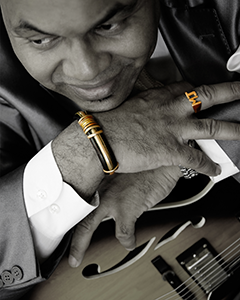 Booking Information:
Maurice Johnson
4213 NW 22nd St.
Oklahoma City, OK 73107

Phone:
(405) 414-0138
Email:
Website:
N/A
Availability:
Year round
Fees:
$2,000 to $4,000 (solo up to five performers)
Bio:
MAURICE JOHNSON, and American jazz artist, brings to the foreground some of the finest musicians with a collective energy and undeniable style. With an upscale taste, Johnson offers a familiar and compelling performance of lush jazz standards, smooth contemporary jazz, R&B, Latin, originals and more. Experience an up-close and intimate set featuring the warm, mature and fascinating presence of guitarist and composer, Maurice Johnson.
ABOUT MAURICE JOHNSON
Milwaukee-born guitar veteran, Maurice Johnson first gained notice in 1985, shortly after forming the Oklahoma City based, After Five Band. Considered the young lions of jazz, After Five gained a great deal of popularity, sharing the stage with major recording artists including George Benson, George Howard, Norman Brown, Nancy Wilson, Al Green, Alex Bungon, Stanley Turrentine, Little Melton, Mary Wright, Ronny Laws, Jennifer Holiday, Freddy Jackson, Larry Coryell, Barney Kessel and others. In 1991 the group signed with New York label, Warlock Records and released the Expressions album.
Between 1996 and 2003 Maurice authored three nationally published music related books with Mel Bay Publishing, Mix Books, and Artist Pro Press. Titles include The New Working Musicians's One Year Organizer, Build and Manage Your Music Career, and Gigorama. During this time he also developed the popular Windows-based Gigorama software.
In the early 90's Maurice and James W. Dale co-founded the D'Leco Guitar company, building exclusive, hand crafted arch-top guitars and would later build the official Charlie Christian, (Solo-flight) guitar models, ultimately negotiation manufacturing deals with Samick Guitars in Korea, and Gibson Guitars in the United States.
Maurice Johnson currently has two albums to he credit, released under his own indie label, JAZZ DROPS RECORDS. They include the 2010 debut release, TONIGHT and 2013 release, PEACE, LOVE & JAZZ. Fans can listen to Maurice's music on Pandora Radio, Apple Music, Spotify and many others.
Maurice has also been interviewed and featured on a wide assortment of independent internet radio stations, including Nigerian based, iGroove Radio and UK, KJazz Radio.