DoveTale Productions
Laurette Willis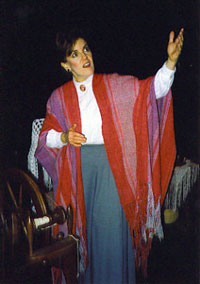 Booking Information:
Laurette Willis
DoveTale Productions
P.O. Box 1449
Tahlequah, OK 74465
Phone:
(918) 458-1800

Email:
Website:
Availability:
Year round

Fees:
One-Woman Shows for children and adults:
Historical Hysterics (storytelling) $350-$900
Great Women of the Frontier (solo performance) $500-$800
The REAL Belle Starr (solo performance) $500-$750
The Nutty '40s Radio Show (solo performance) $750-1000
Storytelling Shakespeare $350-$750
Other shows available (from historical to hysterical!) $500-1000
Workshops, Master Classes and Staff Development $300-$750
Bio:
A popular OAC artist since 1993, Laurette Willis (a.k.a. "The Woman of 101 Voices") loves bringing history to life through dynamic performances and interactive storytelling for adults and children. An award-winning actor and playwright, she has toured the Orient with the USO, performed Off-Broadway in New York City and for film, television and theaters across the U.S. She is the founder of the PowerMoves Kids Program (combines Character Education and Fitness for the classroom).
Since 2007, Willis' ensemble cast has presented Under the Cherokee Moon, which she wrote, directs and performs each summer at the Cherokee Heritage Center and National Museum in Tahlequah. Willis is a versatile and energetic performer who will captivate your audience!