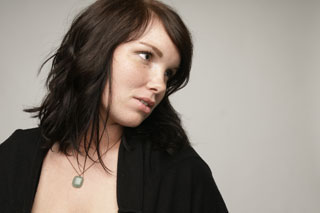 Booking Information:
Lauren Zuniga
1442 NW 46th Street
Oklahoma City, OK 73118
Phone:
(405) 760-0864

Email:
Website:
Availability:
Year round
Fees:
One performance (20 minutes-1 hour): $500-$800
Bio:
Voted Best Local Author in Oklahoma Gazette's Best of OKC 2012, Lauren Zuniga is a national touring poet and teaching artist who blends dynamic spoken word poetry and music in a fluid, interactive style. Vivid imagery and keen attention to her literary craft engage audiences as Zuniga explores themes of social and self awareness. She offers performance sets of 20 minutes to 1 hour, with optional Q&A available.
Zuniga is the 2012 Activist-in-Residence at the University of Oklahoma and the founder of Oklahoma Young Writers. She has been featured on MoveOn.org, The Daily Kos and TEDxOKC. Zuniga's performance has been called "riveting," "transformative" and "soul shaking." Her newest book, The Smell of Good Mud, from Write Bloody Publishing offers a humorous and insightful look at collective living in Oklahoma.