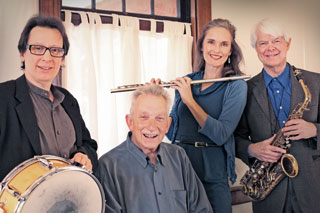 Booking Information:
Larry or Susan Pierce
501 NW 16th Street
Oklahoma City, OK 73103
Phone:
(405) 314-1935
(405) 326-3603

Email:
Website:
Availability:
Year round
Fees:
User friendly jazz with horns, vocal, and percussion and piano (4 performers) $800 plus travel
User friendly jazz with 3 piece combo (3 performers) $600 plus travel
Bio:
The Larry Pierce Combo feature the best in eclectic standards and 'user friendly' jazz for everyone.
Whether tripping the light fantastic to the ballroom beat or kicking back and listening to the gorgeous saxophone and flute playing of Earl Hefley, audiences have delighted in the Oklahoma City based Larry Pierce Combo for 20 years.
Larry's unique vocal stylings have been compared to Randy Newman and Doctor John, and a major early influence was Ray Charles. The singer on the flip side of the coin, Susan Pierce, has a completely different, smoother, approach and together with the superb hand drum rhythms of Mark Giammario they make an acoustic experience for any occasion, be it a 45 min to 1 1/2 concert, or house group for a special occasion.