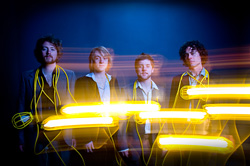 Booking Information:
Eric Dunn

Phone:
(918) 895-6217
(614) 596-8020

Email:
Website:
Availability:
Partial availability throughout year dependent upon touring schedule - please contact for current tour schedule and local availability
Fees:
Fees are dependent upon program, and are negotiable. Contact for more information about options.
Live performance (1 set): $2000 - $4000
Live performance (2 sets): $2500 - $7000
Live performance (1 set) w/ Q&A session: $2000 - $4500
Live performance(s) w/ workshop: $2500 - $7000
Bio:
Since 1994, Jacob Fred Jazz Odyssey (JFJO) has brought their impressionistic, improvisational vision from the Midwest to the world's finest clubs and festivals. These musical chameleons blow-away crowds with their creativity, risk-taking, and telepathy in jazz clubs, rock clubs and performing-arts theaters. Featured in Downbeat and JazzTimes, they play regularly at the world's largest jazz clubs and festivals, but have also found success in the jam scene.
The evolution of an ongoing musical discourse developed over countless tours, JFJO has blossomed into one of the most visionary, fearless bands around, recently winning a Guinness Jazz Award while on their 4th tour of Europe, and performing at such prestigious venues as Lincoln Center in NYC and the legendary Newport Jazz Festival. JFJO plays either one or two sets of music comprised of original compositions, covers and improvisations. Optional programs involve pre-planned workshops or master classes, as well as Q&A sessions.