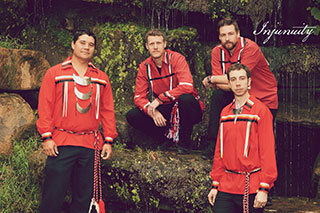 Booking Information:
Jeff Carpenter

Phone:
(580) 421-1030
Email:
Website:
Availability:
Year round
Fees:
Duo Performance: $800-1200
4 Piece Performance: $1000-1500
Full show including additional singers, dancers, and tech: $3000-$5000

Bio:
Injunuity is a Native American flute-centric roots group forged in 2007 by award winning composers Brad Clonch (Mississippi Choctaw) and Jeff Carpenter (Chickasaw). Since its inception, Injunuity has released three full length albums, garnered multiple national music awards, and performed across the US and Europe. The group has been featured in radio, television, documentaries, and feature length films.

Injunuity's primary focus is to preserve the Native American flute, an instrument almost lost to the North American Indian during the turn of the 1900s. Solo pianist Brad Clonch was gifted his first flute by a Chickasaw in early 2002. After his solo piano work brought him to work for the Chickasaw Nation tribal government in Oklahoma, he met fellow band mate Jeff Carpenter and a duo was formed.

Immediately this cultural sound and blend of genres drew attention leading to the addition of other members. Philip Sullivan and Brian Harrison began work with Clonch and Carpenter through Chickasaw Multimedia, a media group owned and operated by the Chickasaw Nation. Through preserving tribal history through film work and documentaries, Sullivan and Harrison were a perfect addition to Injunuity.

All four band members did not grow up traditionally native, as throughout American history, some families censored and suppressed their Native American ancestry. Through each member's film work and music as part of Injunuity, he has drawn a deep spiritual connection to the past, even prompting Sullivan and Harrison to trace their ancestry and roots to both the Choctaw and Cherokee tribes.

The Chickasaw and Choctaw were once a unified tribe. Today, the two tribe's histories have been united through Injunuity.

The inspiration drawn for all original tracks and orchestrations are based on experiencing tribal culture and daily life in Oklahoma, as well as interaction among other tribes, historians, storytellers, and even trips to the original homelands of the Chickasaw, Choctaw, and Cherokee people. Native Americans have profoundly help shape the United States. The music of Injunuity helps revisit these times and keep them alive through song.

The music of Injunuity promotes the introduction of Native American music and history into popular culture, helping break stereotypes about Native Americans and the music within the Indian culture.