The Howard Hanger Jazz Fantasy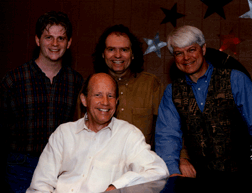 Booking Information:
Earl Hefley
2229 Hummingbird Lane
Edmond, OK 73034
Phone:
(405) 844-8303
(405) 850-9918

Email:
Website:
Availability:
Year round
Fees:
School Jazz Education Performance - $600 ? 750
(need at least twelve schools in a week for this fee range)
Community Concert - $3,700 ? 4,500
Bio:
Howard Hanger is a master entertainer and jazz musician who has toured all over the world. His unique ability to relate his music to all people, from small children to senior citizens, is unparalleled.
Over the years, Hanger has produced 12 albums including For Kids Only, For Kids Only II, Elementary Blues, Dog Breath and Other Mind Boggling Hits for Kids. All of the albums won national awards and are beloved throughout the United States.
Concerts by the Jazz Fantasy include a wide variety of jazz styles from blues to traditional standards to contemporary, as well as his famous children's songs and music made popular by artists such as Dave Brubeck and Louis Armstrong. Performances are complemented by unique storytelling and audience involvement.
.