DWe Williams
Rhythmically Speaking
Ebony Voices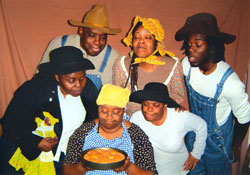 Booking Information:
DWe Williams
2609 NW 38th Street
Oklahoma City, OK 73112
Phone:
(405) 942-0810
(405) 740-5335

Email:
Website:
Availability:
Year round

Fees:
DWe Williams, Storytelling $400 - $2000
Rhythmically Speaking Presents $800 - $2500
Ebony Voices $650 - $2000
A Hidden Soldier $800 - $2,000
Performing Arts Corps fee (available to elementary schools only) $250
Bio:
Rhythmically Speaking
Rhythmically Speaking is a diverse theatre company committed to providing educational and entertaining theatre for youth and family audiences. The company combines storytelling, drama, songs, rhythm, rhymes and plenty of audience participation to create a robust theatre experience. Rhythmically Speaking creates thematic productions suitable for use in schools and communities. There is always a song, and a thought to take home and ponder after the show.

Ebony Voices
Ebony Voices is a storytelling unit of Rhythmically Speaking that incorporates music and womanly style in the telling of stories from the perspective of women. Women who have been birthin' and burpin' and buildin' a bold new body of people as they redefine the boundaries of their time. They deal with a wide array of issues and themes real and imagined, projected in song and story. Ebony Voices specializes in original songs replete with acappella harmonies that plant their stories in the hearts and minds of the audience.