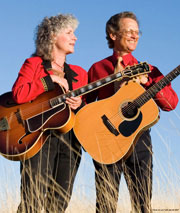 Booking Information:
Jeanne Cahill or Jerome Campbell
PO Box 333
Strang, OK 74367
Phone:
(918) 809-8536
(918) 944-9941
Email:
Website:
www.callofthewest.info
www.jeanneandjerome.com/presenters
Availability:
Year round
Fees:
Performance/Concert: $700-$1100
Mini concert/performance: $700-$1100
Festival performance: $700-$1100
School/library shows: $500-$1000
Bio:
Exquisite harmonies, top-notch musicianship, and on-stage fun add spice to lively western tunes, country standards, cowboy poetry, western swing favorites and originals when Call of the West entertains.
Besides their lead and harmony vocals, Call of the West members Jeanne Cahill and Jerome Campbell possess formidable instrumental skills. Campbell was the 2006 Merle Travis National Thumbpicking Champion, Cahill the 2008 Western Music Association Instrumentalist of the Year. As a group Call of the West received nominations in 2007 and 2008 for Western Music Association Duo/Group of the Year. In 2009, Cahill was a finalist for the WMA Instrumentalist of the Year.
Call of the West has performed together since 1989, and will play a variety of instruments, including guitars, mandolin, steel guitar, concertina, and harmonica. The duo regularly appear at western music festivals, country and folk music events, community get-togethers, schools, libraries, RV resorts and rallies across the U.S. and abroad. They have been featured on RFD-TV's "Best of America by Horseback," and "Midwest Country Theater."
The group's recording projects include three duo albums, two classic country albums with Tex & Mary Schutz, two solo original music albums by Cahill, a gospel album and a solo thumbpicking album by Campbell.
In addition to the Oklahoma Arts Council's Touring Artist Roster, Call of the West is listed on the Mid-America Arts Alliance Artists Registry. The duo travel the country, entertaining and teaching youngsters of all ages with their music.
Tune up your laugh track, put a smile on your face, and prepare to be entertained by Call of the West.