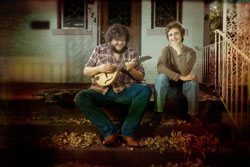 Booking Information:
Fitz Jennings
719 N. Illinois, #4
Weatherford, OK 73096
Phone:
(405) 659-7836
Email:
Website:
www.buffalofitz.com
www.sonicsbids.com/buffalofitz
Availability:
Year round
Fees:
Concert with Buffalofitz - $1500-$4500
Kid's Show - $500-$3000
Bio:
Buffalofitz is a vibrant acoustic band from Oklahoma. A versatile duo featuring the combined energies of Fitz Jennings and Buffalo Rogers, two very different men with a shared love of entertaining, rooted music and storytelling. Their music is an ever-evolving mixture of traditional blues, ballads and gospel songs, combined with surprising originals and impeccably chosen covers. They fit comfortably in any crowd and with any audience.
Fitz Jennings plays guitar, dobro and banjo and sings baritone. Originally of Oregon, Fitz has called Oklahoma home for 11 years. He currently lives in Weatherford in Western Oklahoma with his wife Cierra and their small dog, Woody. Buffalo Rogers plays harmonica, mandolin, accordion and guitar and sings country tenor. A Grady County native son and in-demand session player, Buffalo currently lives on his family's homestead near the Cimmaron River with his dog Ginger.
Buffalofitz's magnetic shows owe much to dichotomy between Fitz and Buffalo, both consummate showmen, each in his own way. As one observer put it: "Fitz Jennings and Buffalo Rogers routinely fill every last cubic inch of available airspace with their acoustic sound. The two compliment each other perfectly and improbably. Buffalo is a large, cantankerous hillbilly, given to wisecracking outbursts and lapses in tact, while Fitz is a slim, bespectacled soul who is equally engaging and humorous, but speaks in literary, almost pedantic tones. Their mutual annoyance results in spontaneous stage banter that is almost as entertaining as the music itself."
Since the band's inception in 2005 the duo has performed hundreds of shows in all types of venues. Awarded the Woody Guthrie Award in 2006 by the Oklahoma Gazette for Best Folk Band, Buffalofitz is also listed on the Mid America Arts Alliance's Artist Registry.