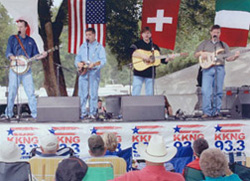 Booking Information:
Steve Cannon
3301 E 44th St.
Edmond, OK 73013
Phone:
(405) 921-5597
Email:
cannonpromotions@sbcglobal.net

Website:
Availability:
Year round
Fees:
Music Performance (may include sound and lights if needed) $2,000 ? $4,000
Trio, workshops or school assemblies $1,000 - 1,500
Bio:
The Bonham Revue is carrying on a family tradition now for over 38 years in bluegrass entertainment. Bluegrass music roots date back into the 70's as the Kiamichi Mountain Boys then into the 80's as Signal Mountain and the Bonham Brothers. In 1992 came the Bonham Revue with later the addition of the next generation of musicians and entertainers in Shilah, Britney and Hunter Bonham.
Over the years, the Bonham's have been a part of over 20 records and awards. Their newest CD 'COLLECTIONS' has received air play from Virginia to California and is available at their shows or online.
In the Bluegrass Unlimited magazine, Shawn Camp, (songwriter of songs for Garth Brooks, Brooks and Dunn and Josh Turner), referred to VIRGIL BONHAM as one of his influences as a songwriter, as Virgil recruited him in the Band, Signal Mountain... JIM P BLAIR is the former president of the Oklahoma Music Hall of Fame and picked in a former band with Garth Brooks, the Red Valley Barn Stormers...CLIFFORD PARRETT was a member of a National Dixie Land Jazz Band and performed on the David Letterman show?DAVID BONHAM is a former member of the Bluegrass Revue for which Vince Gill was a member.
A first for The Bonham Revue came in 2004 when they traveled to Europe to perform at a major music festival in Schleusingen, Germany. The Bonham Revue plays a mix of traditional bluegrass, country and original with a touch of humor. This group has had the honor of sharing the stage with such bluegrass greats as Bill Monroe, Lester Flatt, Ricky Skaggs, Vince Gill, the Whites, Emmylou Harris, Jerry Douglas and Byron Berline. Over the years, they have performed at such shows as Grants Bluegrass Festival in Hugo, Oklahoma, River Fest in Farmington, New Mexico, Pickin on the Plains festival in Colby Kansas and the Oklahoma International Bluegrass Festival in Guthrie, Oklahoma, and many more over the years.