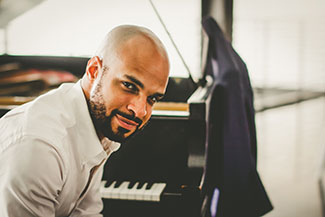 Booking Information:
Barron Ryan
1611 S Utica Ave., Suite 501
Tulsa, OK 74104
Phone:
(918) 688-4786

Email:
Website:
Availability:
Year round
Fees:
First Of Its Kind (No Rights Reserved) – $3,500 to $5,000
Classic Meets Cool – $3,500 to $5,000
An American in Paris – $3,500 to $5,000
Bio:
Barron Ryan's love for music has always been divided. The son of two musicians, he grew up in a house filled with the sounds of artists ranging from Mozart to Michael Jackson. So, when it comes to his own performing, he's not content drawing on just one influence. He combines them all into a musical adventure that's vintage yet fresh, historical yet hip, classic yet cool.

After beginning piano lessons at age four with his father, Ryan seemed destined for a career in music. Everything did not come up roses, however, as Ryan was then rejected from all the music conservatories you might be impressed by. Thanks to winning a competition that resulted in a concert tour of Israel, Ryan found his artistic voice. He discovered the joy of jazz- and ragtime-inspired concert music that formed the basis of his debut album, "Classical with Attitude." He learned from great jazz pianists by replaying their solos on his second album, "The Masters' Apprentice."

In 2019, Ryan noticed a shocking lack of funk-, pop-, and country-inspired classical music. Realizing he could fill the void, he composed the "Magic City" Sonata and a dance suite called "Suite Thing." The works are now published and recorded on his third solo record, "First of Its Kind."

In 2021, Ryan was commissioned by Chamber Music Tulsa to produce a work to commemorate the 1921 Tulsa Race Massacre. He wrote a piece for piano trio entitled "My Soul Is Full of Troubles," and was named one of "Ten Innovators To Watch" by Smithsonian Magazine.