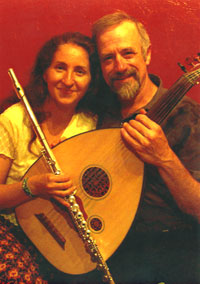 Booking Information:
Steve Vanlandingham
907 W. Eufaula Street
Norman, OK 73069
Phone:
(405) 360-5048
Email:
Website:
Availability:
Year round
Fees:
Community Concert $425 - $550
School Assembly/Classroom Visit $325 - $450
Educational Workshop $450 - $500
Bio:
Arabesque is a musical duo that performs a mixture of Celtic, Arabic, Judeo-Spanish, Turkish and other world folk traditions. Miranda Arana plays a variety of flutes and whistles, while Steve Vanlandingham plays guitar, bouzouki, mandolin, banjo, oud (a middle eastern lute) and a wooden slit drum. Both hail from Norman, where Miranda teaches World Music at the University of Oklahoma and Steve does archeological survey work. Their performances are an intelligent mix of storytelling, history, humor and hands-on fun.