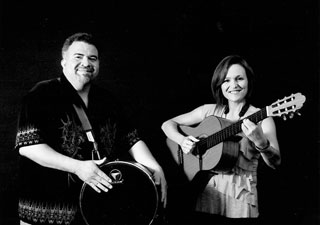 Booking Information:
Armando Rivera/Christina Audas
Norman, OK
Phone:
(405) 694-6422
Email:
Website:
Availability:
Year round
Fees:
$600 to $900 (a performance with 2 to 4 performers), $1200 to $2500 (6 hour Samba workshop with up to seven performers), $725 to $1400 (Combination of concert, storytelling/lecture/demonstration featuring up to 4 performers)
Bio:
The duo of Alegria Real - comprised of artists Christina Audas and Armando Rivera - brings to life the folkloric music, stories, and cultural traditions from Latin America and the Caribbean. Alegria Real entertains, educates, and embraces audiences of all ages with the captivating and diverse sounds from a wide variety of musical traditions that include Argentinian Zamba and Chacarera, Brasilian Samba, Choro, and Bossa Nova, Bolivian Huayno, Peruvian Lando, Colombian Cumbia, Mexican Son Jarocho and Bolero, Cuban Son, Spanish Rumba Flamenca, and innovative fusion of genres and styles with Latin American musical roots. This dynamic repertoire of music is interpreted on an impressive array of acoustic string, wind, and percussion instruments that are authentic and representative of the various folkloric styles. Additionally, Alegria Real's repertoire also includes imaginative storytelling, which through spoken word, song, dance, and audience participation tells South American folk legends from Native American cultures of Bolivia and Brazil.
Their samba workshop will transport you to a wonderful time of Brazilian-style Carnaval music by teaching you to build and play the hand percussion instruments found in an escola do samba (school of samba). Alegria Real has performed at the prestigious OK Mozart Festival in Bartlesville and with the Oklahoma Canterbury Choral Society.
Christina Audas provides vocals, plays the siku (Bolivian pan-pipes), plays rhythm nylon-string guitar, the charango (Bolivian ten-stringed instrument), and the cavaquinho (Bolivian four-stringed instrument).
Armando Rivera provides percussion on a wide range of instruments that includes several types of cajon, bombon, tan-tan, bongo, congas, and other Afro-Brazilian and Afro-Cuban traditions.