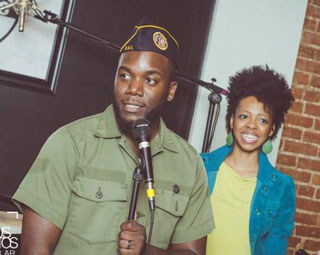 Booking Information:
Kimila Ledbetter
2401 NW 122ND ST, #131
Oklahoma City, OK 73120
Phone:
(405) 618-9213
Email:
Website:
Availability:
Statewide
Fees:
$300-600
Bio:
Adam & Kizzie have come together on a mission to give music their absolute best. Their music is a tribute to everything that is genuinely great about music, which is why it's hard to claim whether their album The Book of EEDO: Vol. 1 is an R&B, soul, jazz, or hip hop form of musical art.

The Oklahoma couple has been featured on a number of programs including a recent episode on Food Network's Season 8 of Restaurant Impossible titled, Face the Music, Season 4 of the Chevy Music Showcase documentary series, and KSBI 52's Oklahoma Live. The duo can also be heard on musical projects including Ohmega Watts's new album Pieces of a Dream, J.Lee The Producer's album Inspire Me, and the Support Local Heroes: Vol. 1 benefit album produced to aid victims affected in the 2013 Oklahoma tornado disaster. Their upcoming album, The Book of EEDO Vol. 2, is set to release at the end of 2014 on Ropeadope Records.

Because Adam & Kizzie both showed extraordinary skills in music at young ages, they were enrolled in an arts school where they both became close friends. After the onset of adulthood, their paths separated. Each set out traveling the world: Adam sharing his gift on the piano; Kizzie performing on stage. Thirteen years later, their journeys suddenly recrossed and in the midst of rekindling an old friendship, an unexpected romance brewed and the two were later married.
With his magic fingers, her melodic voice, and a unique sound, Adam & Kizzie have set out to share the gift of music in the best way their hearts know how – the EEDO way.

 - - - -

"Eedo is frEEDOm with the fewest number of consonants. As music, eedo is a way of synthesizing all of our influences into one unified approach."

"Eedo is anything good and right. A book or song that inspires you to do something good, that's EEDO. It is freedom to express, feel, and inspire growth, joy and love."

"Our mission is to create art that comes from a genuine place. No lyric, melody, harmony or concept is born for the sake of selling records. We share our lives in this music. We advocate love, enlightenment and truth. We aim to honor God, the Father who gave us music - which is His language. EEDO! "