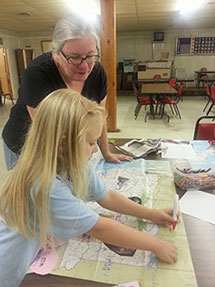 Contact Information:
Shaun Perkins
Phone:
(918) 864-9152

Email:
Discipline:
Creative Writing, Poetry, Literature, Storytelling
Participants:
Early childhood, childhood, adolescents, intergenerational, adult, youth at risk
Settings:
Schools: pre-k, elementary, middle schools, alt-ed
Community Sites: parks & recreation centers, arts centers, libraries
Availability:
Statewide, year-round
Bio:
A native of Locust Grove, Oklahoma, Shaun Perkins has taught students from elementary schools to adults, in both urban and rural communities, for more than 24 years. From literature and composition to creativity and critical thinking, Perkins' talent at bringing the written word to her students has helped her to connect with diverse student populations and has earned her acclaim as an educator. Perkins served as coordinator of the "IMPACT" At-Risk Student Program in Bartlesville for several years, and was named Bartlesville's Teacher of the Year in 1993.
Perkins has been regularly published in numerous regional and national literary journals, including a cover story in the August 2008 edition of Storytelling magazine. Perkins is also a recognized performer, working as a storyteller in numerous venues including the 2014 Woody Guthrie Festival and as a presenter at the National Storytelling Network annual conference. Perkins is also the curator of the Rural Oklahoma Museum of Poetry.
Perkins has a particular knack for connecting with teens and high school groups, including at-risk youth, and is willing to travel widely within the state to lead residencies. Perkins' goals for her students are for them to develop new appreciation for poetry and the written word and for them to learn to express themselves in an authentic way through the literary arts.


Learning Goals:

Students will practice critical thinking skills related to wordplay
Students will present original writing to others
Students will develop creativity through impromptu writing
Students will learn different methods for poetic expression
Students will enjoy an interaction with wordplay
Students will collaborate on rhymes and rhythms