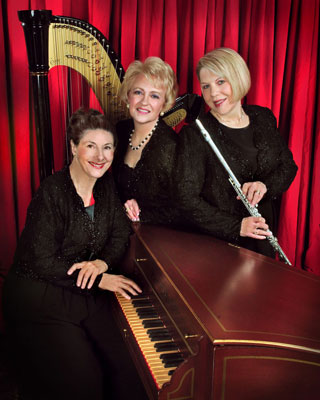 Booking Information:
Lillian M. McConnell
1623 S. Madison Ave.
Tulsa, OK 74120
Phone:
(918) 812-0174
(918) 587-4574

Email:
Website:
Availability:
Year round

Fees:
Community Concert and Salon Series: $3000 to $4000
"Informance" at Library or School: $1750 to $2500
Community Concert and "Informance": $4250
(Travel expenses may vary)
Bio:
Performing with an elegant touch and offering a varied program of classical, jazz, and popular music, the Rose Stone Trio inspires music lovers with performances featuring the harp, flute, harpsichord and piano. Cited for giving a "stellar performance" at the Presidential Inaugural Ball in Washington, D. C., this trio brings creative insight and dynamic life to their music. Delighted audiences of all ages throughout the United States have participated in their spirited concerts, which often include opportunities for audience members to play the harp and harpsichord on stage following the performances. Entertaining comments by the musicians make colorful memories to share. The glittery glissandos of the harp, the sparkling sounds of the harpsichord, and the dancing tones of the flute set the stage for a delightful time.