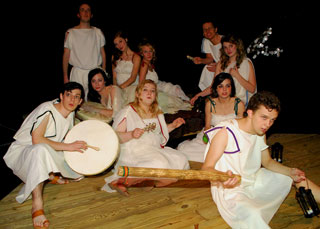 Booking Information:
Erin Woods
P. O. Box 61128
Oklahoma City, OK 73146
Phone:
(405) 651-3191

Email:
Erin.woods@reduxiontheatre.com

Website:
Availability:
Full length play: February to April
Shakespeare Workshops: December, February, March-May, July-September
Fees:
Full-length Shakespeare play (8-15 performers) $1000-$1500/performance
Shakespeare Workshops (Language, Combat or Improvisation) $50-$75 per hour
Bio:
Reduxion Theatre Company (RTC) is an Oklahoma nonprofit organization with an eleven year history producing plays, events and educational theatre outreach programs in Edmond, Oklahoma City and New York. The mission of RTC is to professionally produce both classical and contemporary theatre, enriching Oklahoma's cultural, educational and economic climate, attracting artists and audiences from around the world. The name Reduxion comes from the Latin word "redux" (to visit) and the process of "reducing" a sauce in the culinary arts to its purist form ? its essence. The motto of Reduxion Theatre is "Revisit the Classics."
Available programs include: a full-length play by William Shakespeare, produced with live music, audience interaction and post-show Q&A. Using little to no set and ensemble-style casting ( a small troupe taking on all of the roles), these productions are flexible enough to perform in traditional proscenium theater spaces or nontraditional venues, such as conference rooms, ballrooms, classrooms, corporate lobby areas or outdoors.
Shakespeare Workshops are taught by founding members of Reduxion Theatre Company, Tyler Woods or Erin Woods. Individual programs are hour-long workshops on language, combat and classical acting improvisation. Geared for adults, workshops can be altered for teens and middle-school aged children.