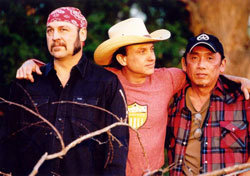 Booking Information:
John Cooper
9505 N. Clay Rd.
Glencoe, OK 74032
Phone:
(580) 669-1144
(405) 780-3478

Email:
Website:
Availability:
Year round

Fees:
$2000 ? $5000
Bio:
For nearly two decades, the Red Dirt Rangers have criss-crossed the nation (and Europe) bringing their unique sound to the people. The band helped create what is now called "Red Dirt Music", that elusive blend of country, rock and roll, blues and bluegrass along with a big helping of Oklahoma soul.
The Rangers wear their Okie pride on their sleeves and the music shows it. Drawing inspiration from the likes of Woody Guthrie, Bob Wills and Will Rogers, the Red Dirt Rangers are among Oklahoma's greatest musical ambassadors.