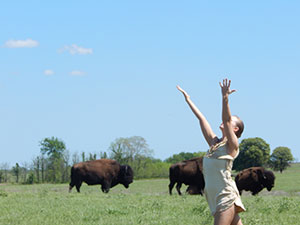 Booking Information:
Randy Smith
PO Box 1141
Skiatook, OK 74070

Phone:
(918) 704-4668
Email:
Website:
Availability:
Statewide
July through mid-August
Fees:
$35,000 per week for up to four performances
Bio:
Osage Ballet performs Wahzhazhe, a contemporary ballet that brings together unique and diverse qualities of Oklahoma history and culture: a reverence for classical ballet that was the legacy of two famous Osage ballerinas, Maria and Marjorie Tallchief, and the richness of Osage traditional music, dance, and textile arts. The production's creative set designs transform the stage into accurate depictions of Osage lifestyles and the costumes are created to appear as the traditional tribal clothing that was worn during the past 200 years.
The ballet takes audiences through the story of the Osage, beginning with pre-Columbian times in Missouri, progressing through changes that occurred after contact with Europeans, and ending with a depiction of a strong, courageous, and surviving people who have learned to walk in two worlds.