Winter Trees
by Beth McAninch Jordan
Watercolor
Dimensions: 33 x 31.5
Purchased through a National Endowment for the Arts grant, 1971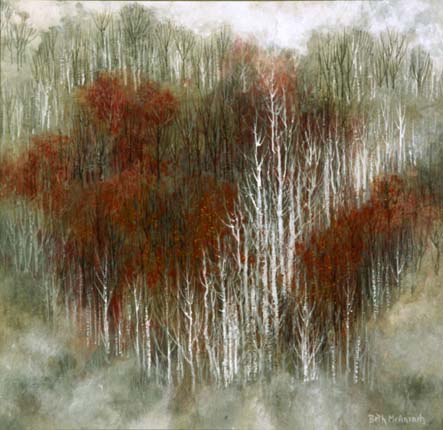 The Artwork
With Winter Trees, Beth McAninch Jordan attracts the viewer's attention through the use of red earth tones in this primarily white and gray watercolor. The use of these colors conveys the cool temperatures and cloud cover associated with winter. Unity is achieved through the repetition of vertical lines which make the tree trunks in this painting of a heavily wooded area.
The Artist
Beth McAninch Jordan was born in Corn, Oklahoma, in 1918. She earned her Bachelor of Arts from Southwestern State College (now Southwestern Oklahoma State University) in Weatherford, with a double major in art and art education. She has studied privately and has attended numerous painting workshops with nationally known artists. She has taught art classes at the Oklahoma Science and Arts Foundation, Studio Fore, Discoveries, and in her studio in Oklahoma City.

Since 1957, her paintings have been accepted into many juried exhibitions and she has had numerous one-person shows. She participated in group and invitational exhibits at such prestigious venues including Gilcrease Art Museum, Arkansas Art Center, and Oklahoma Art Center (now part of the Oklahoma City Museum of Art) where work was selected for the purchase prize.

McAninch Jordan won numerous awards for her watercolors and pencil drawings, including the Oklahoma National Printmakers Show, Philbrook Oklahoma Annual, Oklahoma Museums Spring Salon, and the Tulsa Regional, among others. Her work can be found in many public and private collections including the Westinghouse Corporation, the Oklahoma Medical Research Foundation, Governor Dewey L. Bartlett, and Mr. and Mrs. Charles 'Bud' Wilkinson.