Retired for the Duration
by Joan LaRue
Oil on canvas
Dimensions: 23.5 x 47.5
Gift of the artist, 1987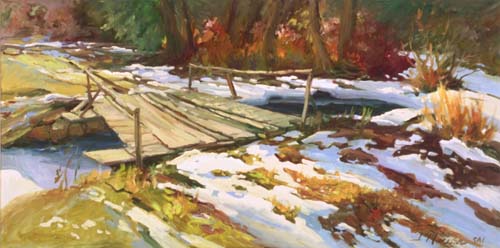 The Artwork
Using one perspective, the artist depicts a wooden bridge crossing a stream as the warm sunlight melts the winter's snow. In cool shadows cast from the trees which grow from the top center of the canvas, some snow seems to be protected from the sun warmth. The artist's use of warm colors, red and orange, contrast with the blue-hued snow and stream, creates a lively interaction of complementary colors.
The Artist
Joan M. LaRue, whose impressionist paintings include landscapes, harbor scenes, and florals, was born in Custer, Oklahoma, and grew up in Clinton, Oklahoma. She earned a Bachelor of Arts from the University of Oklahoma in Norman. Her work reflects her residencies in Oklahoma and Arizona and her travels to Russia, Italy, Nepal, and throughout the U.S. Her murals have been installed in Barth Bracken Ranch in Fort Gibson, Mercy Health Center of Oklahoma City, and Robert S. Kerr Conference Center in Poteau, Oklahoma.

LaRue served as Professor of Art at the University of Oklahoma from 1956 to 1958 and 1970 to 1980. She has also been a teacher of plein-air workshops in Connecticut, Arizona, Colorado, and California. Her work has been exhibited often throughout Oklahoma, California, and Arizona. In addition, her award winning work has been shown at various venues across the U.S. and Italy and included in many periodicals including The Artist's Magazine, Southwest Art, Art & Antiques, and American Artist.