Donkey Head
by Ken Little
Metal, bronze
Dimensions: 17.5 x 28.75 x 20
Gift of Mr. and Mrs. R.L. Sias, Mr. and Mrs. Jerome Westheimer, Sr., The Fred Jones Foundation, The QuickTrip Corporation, and the Williams Company, 1988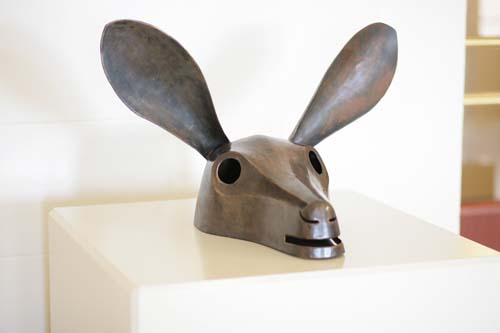 The Artwork
With Donkey Head, artist Ken Little has reduced the form of a donkey head to simple and repeated shapes. The shapes which compose the ears are very similar to the overall shape of the head. This same shape, can be found on the contours of the face. The animal's eyes are formed by simple circles, just as the animal's mouth is formed by a elongated rectangle. By using simple shapes, the artist has created a sleek and modern representation of the donkey.
The Artist
Born in Canyon, Texas, Ken Little earned his Bachelor of Fine Arts from Texas Tech University and his Master of Fine Arts in ceramic sculpture from the University of Utah. It was during his graduate studies that Little began making three-dimensional works. Upon his graduation in 1972, he has held tenured positions at major universities, including the University of Montana at Missoula and University of Oklahoma in Norman. In the early 1980s, Little was the head of the sculpture program at the University of Oklahoma. During this time, he lived and worked in Norman, Oklahoma, producing a large number of works. Fellow University of Oklahoma professor Dr. Susan Havens Caldwell created a monograph of his work. Since 1988, he has been a professor of art in sculpture at the University of Texas at San Antonio.

As a nationally recognized artist, Little has been the recipient of many honors and awards including two individual Artist Fellowships from the National Endowment for the Arts in 1982 and 1989 as well as other grants from the Kohler Company. An avid researcher, he has been granted seven faculty research development grants at various institutions. His work in various media has been shown extensively both nationally and internationally including in 40 one-person exhibitions at prestigious venues including the Washington Project for the Arts, The Nelson Gallery of the University of California at Davis and the Forum for Contemporary Art in St. Louis.

Little's work is included in numerous public collections including the Museum of Contemporary Crafts in New York City, Utah Museum of Fine Arts in Salt Lake City, Foundation on Culture and the Arts in the State of Hawaii, Microsoft Corporation in Seattle and the ArtPace Foundation of San Antonio. Ken Little was named the Texas State Artist of the Year for 2014 in three-dimensional media.