105-90 Totem Series
by Nicholas Kyle
Acrylic on canvas
Dimensions: 48 x 60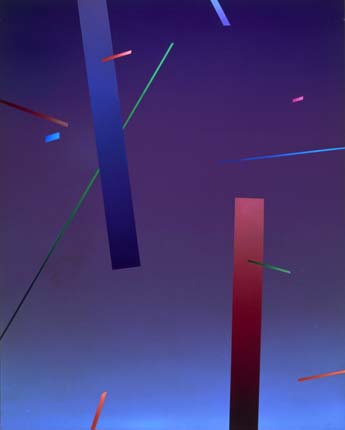 The Artwork
In the large abstract painting 105-90 Totem Series, Nicholas Kyle paints each element with a gradation of light to shadow. This application of color, along with the repetition of similar shapes sparingly arranged on a large field of purple, creates the illusion that these shapes are falling or floating in space.
The Artist
In 1965, Nicholas Kyle earned his Bachelor of Arts in Art and Education from the University of Central Oklahoma. He then served the U.S. Navy from 1967 to 1972 when he earned his Master of Arts in Painting and Design from Purdue University. He later taught adjunct courses at Oklahoma City Community College and was instructor and Chair of the Fine Arts Department of Putnam City High School. In 1997, he left Oklahoma City to serve as Associate Professor of Art and Chair of the Art Department from Missouri Southern State University. In 2008, Kyle retired after 43 years of teaching art.

As an artist, Kyle has had 32 one-person exhibitions, and has had his work exhibited in more than 70 group exhibitions. His work has been exhibited in Oklahoma, Texas, Indiana, Missouri, Louisiana, Arizona, Illinois, California, and Sweden. Kyle's art is included in several prestigious collections including the Mabee-Gerrer Museum of Art and the Nestle-Purina Corporate Collection.

Kyle has received many numerous honors and awards for his art and educational prowess. In 1991, he was awarded the Oklahoma Governor's Arts in Education Award. That same year, he was award the National Art Teacher of the Year award from the Walt Disney American Teacher Awards and was named the Oklahoma Art Educator of the Year. From 1988 to 1990 he received a grant from the National Endowment for the Arts and the U.S. Department of Education to conduct and publish research on aesthetics and spacial abilities.

Kyle has been very involved with arts and arts education organizations. He was a founding board member of the Oklahoma Visual Arts Coalition. He also served as a board member for Individual Artists of Oklahoma and the Oklahoma Arts Institute. He has served in several leadership roles for the Oklahoma Art Education Association and was a member of the National Art Education Association. Among his other organizational involvement, Kyle has served on committees for the Arts Council of Oklahoma City and the Oklahoma Arts Council.