The F.F.V.
by M. Glenn Godsey
Acrylic on masonite
Purchased through a National Endowment for Arts grant, 1971
Dimensions: 24 x 32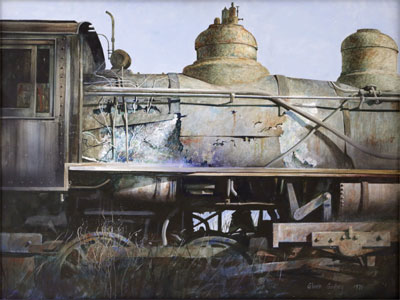 The Artwork
In The F.F.V., Glenn Godsey presents the viewer with a meticulously detailed painting of a weathered train. Executed in a photorealist style, the painting focuses on the wear and patina of the retired engine's surface. The F.F.V., or The Fast Flying Virginian, was a passenger train of the Chesapeake & Ohio Railway. The F.F.V. made its first run on May 11, 1889, but like many passenger trains, the F.F.V. eventually fell out of favor as a means of transportation as the popularity of the automobile grew. As less people rode trains, the trains began to carry mail, but in 1967, the U.S. Postal Service canceled its contracts with passenger trains, and the F.F.V. made its final run on May 12, 1968.

With his painting of The F.F.V. created just three years after the train's retirement, Godsey confounds the viewer with the beauty of an aged surface while demonstrating how quickly a once powerful engine can become a thing of antiquity.
The Artist
Martin Glenn Godsey earned his a bachelor's and master's degrees from the University of Tulsa. In 1967, he made the transition from student to professor and began teaching at Tulsa University. In addition to having a command of the media of watercolor, gouache, acrylic, and oil painting, Godsey was quick to explore digital media. He continues to teach classes in traditional and digital media at the University of Tulsa. Godsey has won numerous national and international awards. His work is included in many public and private collections.