Guardian of the Mother Road
by Rick Sinnett
Serigraph, 49/200
Dimensions: 15 x 22
Gift of Randell and Nancy Sinnett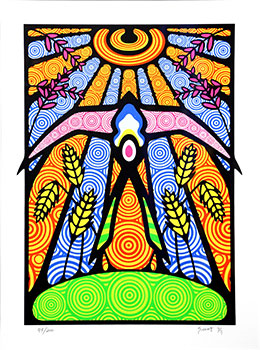 The Artwork
By producing a serigraph, or screen print, the artist is able to create multiples of the same artwork. It is a tedious process that requires much craftsmanship. With Guardian of the Mother Road, Rick Sinnett used this process to allow him to create an edition of works on paper of the same design of a mural that he was producing at the same time in El Reno. He used the same exterior paint that he used for the mural to produce this edition of prints.

The image uses several symbols associated with Oklahoma. Most notably is the scissor-tailed flycatcher in the center of the composition. Also included in the image are branches of a redbud tree and waving wheat. Sinnett also chose a nearly complementary color palette that may remind the viewer of colors of the Oklahoma state flag.


The Artist
Rick Sinnett of Mustang, Oklahoma, is a muralist, printmaker, and curator. He is self-taught and has referred to himself as a folk artist. His artwork, which characteristically has bold lines, also typically includes vibrant colors and repeated patterns. His early artistic career took him to California where he adopted the moniker Mothman, due to the animals and natural elements which serve as the foundation of his compositions. There he sold his screenprints and ink drawings. He also began giving away hand-drawn artworks in exchange for the recipient expressing concern or kindness to others who they may encounter. This initial exchange became the basis for his "art for the people" approach to his career, including murals and "art drops" using social media, and often large helium-filled balloons, to give away prints.

Though he still produces silkscreened artworks and acrylic mandala paintings, Sinnett has become most known for his large murals that can be seen in Tulsa, Pauls Valley, Norman, El Reno, and other locations along Route 66, and most notably on the Rocktown grain elevator near Bricktown in Oklahoma City. The 100' x 128' mural titled "This Land" on the north side of the structure was completed in 2014. OETA filmed Sinnett and his crew during the more than two year process of painting the 12,800 square foot mural. The process aired on an episode of Gallery about public art. In addition to his mural projects, Sinnett continues to exhibit his paintings and prints. In 2014, he had a one-person show Lotus Flowers and Butterflies at the Myriad Botanical Gardens Crystal Bridge Gallery in Oklahoma City.