Hide and Seek
by Mary Russell
Oil on panel
Dimensions: 20 x 16
Gift of the Artist, 2015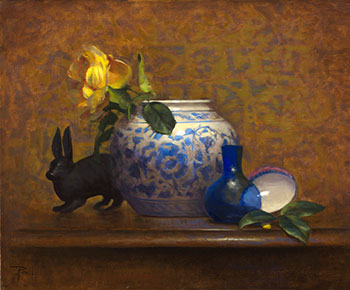 The Artwork
Mary Russell uses the format of the still life to create compositions that unite objects, images of figures, and even allusions to landscapes. She arranges her subjects, and then paints from life. The compositions that she creates allow her to pursue her love of problem solving all while creating scenarios of balance and counterbalance. She pairs cool and dark areas with areas of light and warmth. Using these elements together, she is able to create a sense of movement within the painting.

Working in natural light conditions, she uses a classical color palette. She prefers to work on wooden panels that she prepares herself. She begin by applying thin layers of paint, then gradually allows the paint layers to become thicker. Throughout this process, her compositions transition from dark to light.

In this painting, the viewer may find several allusions to life in a dynamic composition.
The Artist
Born in Illinois, Mary Russell moved to Oklahoma in her youth. Though she studied art at Oral Roberts University in Tulsa and Northeastern State University in Tahlequah, Russell is quick to note that it was non-academic art education that has had a great impact on her approach to painting. She states, "I studied with wonderful working artists of my own choosing who were making a living from
art." In addition to her instruction with living artists, Russell pursued focused study of the masterworks of deceased artists.

Russell first established a career as a figurative artist before moving into the genre of still life to better understand spatial relationships. In her approach to still life, she discovered that the genre allowed her to create compositions that united objects, images of figures, and even allusions to landscapes. She was able to do this all while painting from life.

Russell's approach to painting is loyal to a classical color palette in natural light conditions. She prefers to paint on panels that she prepares herself; then, working from thinly to thickly-applied paint, her compositions transition from dark to light.

Mary Russell is represented in galleries across the nation including Morris & Whiteside Galleries in South Carolina, Hilligoss Galleries in Illinois, Hayden-Hays Gallery and E.S. Lawrence Gallery in Colorado, Alterman Galleries in New Mexico, and M.A. Doran in Tulsa, Oklahoma. She has earned numerous awards including the Oil Painters of America Gamblin Award of Excellence. Her work has been included in the American Art in Miniature and Collectors' Reserve art exhibitions at the Gilcrease Museum as well as the Small Works Great Wonders exhibition at the National Cowboy & Western Heritage Museum, and juried exhibitions and auctions throughout the nation.

Her art has been included in articles in Southwest Magazine and American Artist magazine, as well as included in the International Artist Publishing book How Did You Paint That? 100 Ways to Paint Still Lifes and Florals. Mary Russell is a Signature Member of the Pastel Society of America and an Associate Member of Oil Painters of America.