Just Your Everyday Bear
by Joffa Kerr
bronze
Gift of Mr. William G. Kerr and the Artist, 2014
Dimensions: 20" in height
Currently on exhibit in the Betty Price Gallery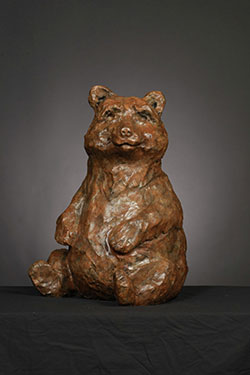 The Artwork
With Just your Everyday Bear, the artist has created a sculpture which is very representational yet at the same time both impressionistic and whimsical. The artist has imbued the artwork with a playful energy which is conveyed through the heavily textured surface. When examining the sculptural form, viewers may begin to imagine where the artist pulled the original clay or pushed in certain areas to achieve the bear's overall shape. Though the artwork is cast in bronze, the artist sculpted the form in clay. The hard metal surface has retained the playful, expressive marks made by the interaction between the clay and the artist's hands.


The Artist
Though born in Nacodoches, Texas, Joffa Kerr attended the University of Oklahoma and studied interior design and art. She made Oklahoma her home and married William G. Kerr, son of famed businessman and politician Robert S. Kerr. It wasn't until 1982 when she attended a series of Scottsdale Artist School courses that Kerr began a serious art career. She has since studied anatomy with severalartists. She has studied with noted sculptors Ken Bunn, Sherry Sander, Kent Ullberg, and Glenna Goodacre.

Kerr's impressionistic style conveys the gestures and attitudes of her subjects, which creates unique, often humorous personalities for her bronzes. Her sculpting technique and interpretation of animals requires great concentration and quiet reflection. Joffa states, "The creative spirit needs time, quiet, and inspiration in order to emerge." With camera in hand, she observes and studies the animal, taking in the surroundings--animal and environment. Back in her studio, she searches for the feeling, emotion, and essence of the animal she wants to convey. Her desire is that with the finished piece, the viewer will emotionally relate with her bronzes.

In 1997, Southwest Art magazine editors named Kerr one of the top five Women Artists of the Year. She has exhibited at the Albuquerque Museum, Gilcrease Museum, the Oklahoma City Museum of Art and the International Exhibit Wildlife: The Artist View, organized by the Leigh Yawkey Woodson Art Museum. Among her clients for commissions are the Nature Conservancy, the Lori Corporation, and the Grand Teton Music Festival. Her work is currently represented in galleries in Arizona, California, Colorado, New Mexico, New York, Oklahoma, Texas, and Wyoming. In addition to her work as an artist, she along with her husband helped found the National Museum of Wildlife Art in Jackson, Wyoming.