Neuf Series for Maine and Oklahoma
by Edgar Heap of Birds
Acrylic on canvas
Gift of the Cheyenne and Arapaho Cultural Heritage Program, Lucky Star Casino Concho, and Lucky Star Casino Clinton, 2013.
Dimensions: 36x 44
Currently on exhibit in the Betty Price Gallery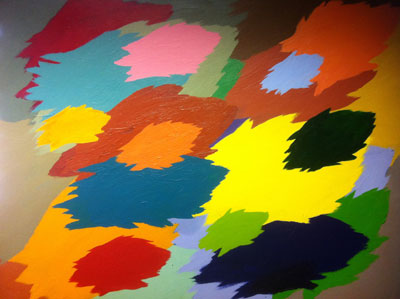 The Artwork
This brightly colored acrylic on canvas painting is from the artist's Neuf Series. "Neuf" is the Cheyenne word for "four." The abstract forms in this painting may depict the gently rolling, forested areas and the red rock of the Cheyenne and Arapaho tribal lands.
The Artist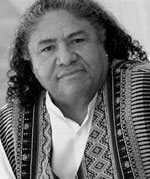 Edgar Heap of Birds received his Master of Fine Arts from Tyler School of Art, Temple University, Philadelphia, Pennsylvania, in 1979, his Bachelor of Fine Arts from The University of Kansas, Lawrence, Kansas, in 1976, and has undertaken graduate studies at The Royal College of Art, London, England. He was awarded an Honorary Doctor of Fine Arts Degree from the Massachusetts College of Art and Design, Boston, Massachusetts in 2008.

Heap of Birds has exhibited his works at The Museum of Modern Art, Whitney Museum of American Art, National Museum of the American Indian, Smithsonian Institution, New York, New York; The National Gallery of Canada, Ottawa; Museum of Contemporary Art, Sydney, Australia; Documenta, Kassal, Germany; Orchard Gallery, Derry, Northern Ireland; University Art Museum, Berkeley, California; Association for Visual Arts Museum, Cape Town, South Africa; Lewallen Contemporary Art, Santa Fe, New Mexico; Hong Kong Art Center, China; Bandung Institute of Technology, Bandung, Indonesia; Grand Palais, Paris, France; and the Venice Biennale, Italy.

He has served as visiting lecturer in London, England; Western Samoa; Chiang Mai and Bangkok, Thailand; Johannesburg, South Africa; Barcelona, Spain; Belfast, Northern Ireland; Norrkoping, Sweden; Hararre, Zimbabwe; Verona, Italy; Adelaide, Australia; and India.

He has taught as Visiting Professor at Yale University, Rhode Island School of Design, and Michaelis School of Art at the University of Cape Town, South Africa. Since 1988, Heap of Birds has taught Native American Studies at the University of Oklahoma. His seminars explore issues of the contemporary artist on local, national and international level.

He has received grants and awards from The National Endowment for the Arts, Rockefeller Foundation, Louis Comfort Tiffany Foundation, Lila Wallace Foundation, Bonfil Stanton Foundation, The Pew Charitable Trust and the Andy Warhol Foundation.

Edgar Heap of Birds' artwork was chosen by the Smithsonian's National Museum of the American Indian as their entry towards the competition for the United States Pavilion at the 52nd Venice Biennale. He represented the Smithsonian with a major collateral public art project and blown glass works in Venice, June 2007 titled: "Most Serene Republics".