Allan II
by Phillip M. Haozous
bronze, 6 of edition of 30
Dimensions: 16.25 x 5.5 x 4
Gift of the artist, 2013.
Currently on exhibit in the Betty Price Gallery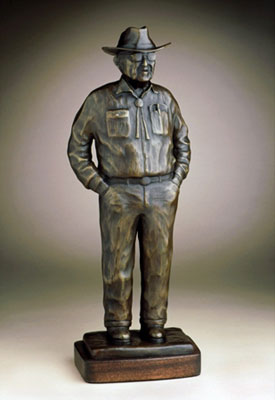 The Artwork
In this bronze maquette, Phillip M. Haozous represents his father wearing his favorite cowboy hat. Haozous also created a life-sized bronze sculpture of his father, but wearing a beret. The life-sized version was exhibited in Salt Lake City, Utah at the 2002 Olympics to accompany the 18 displayed monumental works created by his father.
The Artist
Phillip Mangas Haozous, named for his great-great grandfather Mangas Coloradas leader of the Warm Springs Chiricahua Apache, was born in Lawton, Oklahoma, to Allan and Anna Houser. Though he grew up surrounded by art, Haozous' path to his art career was rather indirect. After serving in the Air Force, where he specialized in developing radar systems, Haozous went on to work in theater and film as a jeweler. It was during his time as an actor in a Wild West Show in Cripple Creek, Colorado, that Haozous began his foray into the art world by experimenting in making jewelry for his costumes. In 1973, he enrolled in the Institute of American Indian Arts in Santa Fe to refine his techniques under the direction of Skip Holbrook. In addition to working with jewelry, Haozous began to explore other media, including flute making and sculpting. His father, Allan Houser, inspired him to utilize his special gift for sculpting.

Haozous speaks fondly of his father, "Allan was very patient with me and was always there to offer words of encouragement when I was having difficulty with a particular stone." In the late 1990s, years after his father's death, Haozous decided to pursue sculpting as a career.

Known for sculpting abstract figures that utilize concepts of realism, Haozous has been awarded several first place ribbons at the Santa Fe Indian Market, the Eight Northern Indian Pueblo Artists and Craftsmen Show, and the Otero Award for Creative Excellence. In 2007, Haozous received two blue ribbons at the Heard Museum Indian Market. His work is in several prestigious collections including the James T. Bialac Collection at the Fred Jones Jr. Museum of Art at the University of Oklahoma.