Tang Horse with Ming
by Richard Goetz
Oil on canvas
Dimensions: 30.375 x 24.5
Gift of Victor Goetz and the Goetz Family, 2009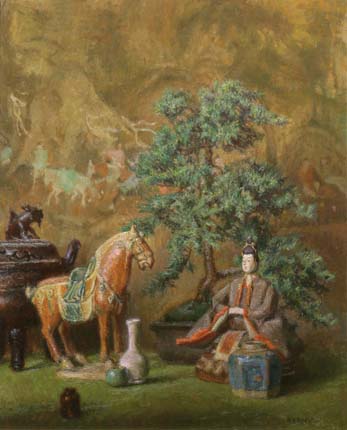 The Artwork
Richard Goetz taught his students that the components and arrangement of a still life painting can relate stories and ideas to the viewer. In this composition, the artist presents the viewer with several miniatures including porcelain vessels, a horse, and a female figure. A small juniper tree creates provides a background element that encourages the viewer to rethink the meticulous placed objects not only as things of beauty but also as characters in a fantastical play.

The Artist
Though he was born in Tennessee, Richard "Dick" Goetz spent most of his childhood and professional life in Oklahoma. It was here that he made a home for his family of six children with his artist wife Edith, whom he met at the Art Students League in New York City.

Specializing in highly refined still life compositions, Goetz's work was exhibited at many prominent galleries including Fenn Gallery in Santa Fe, New Mexico, and Grand Central Art Galleries in New York. His work is included in public collections including the Oklahoma Art Center (now the Oklahoma City Museum of Art), which purchased a collection of Goetz's oils, watercolor, drawings, and graphics for its permanent collection in 1979.

Richard Goetz worked as a professional artist and teacher for over 50 years, winning many prestigious awards for his artwork. Also recognized as a distinguished teacher, Goetz was co-owner of the Malden Bridge School of Art in upstate New York and for many years was a member of the faculty of the prestigious Art Students League.