Cruse #1
by Collin Rosebrook
Hand thrown, salt-fired ceramic vessel
Dimensions: 36 dia
1988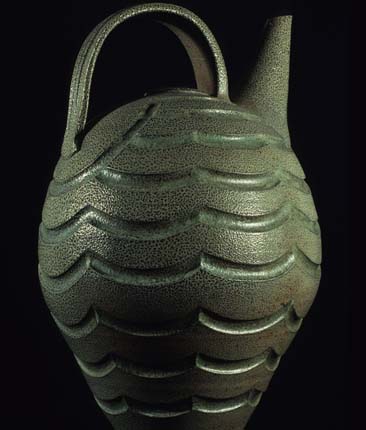 The Artwork
With Cruse #1, Collin Rosebrook has taken the form of a pitcher and enlarged its proportions. In doing so, the artist transforms a common object causing the viewer to rethink the vessel and its purpose. This large salt-fired pitcher is at once delicate with it incised exterior design and massive with its wide diameter which may remind the viewer of an amphora and other large container from antiquity.
The Artist
Collin Rosebrook was born in Stillwater, Oklahoma and attended Oklahoma State University. While participating in an internship at a Stillwater arts center, he was asked to help build a free-blown glass studio and the needed equipment. After graduation, he returned to his family farm in Oklahoma City, where he used his new found experience to build his own clay studio. After he completed his studio, he entered at least 10 juried exhibitions each year. He worked as a custodian and lifeguard as well to support himself. Soon he had a large following and and students who wanted to receive instruction from him. He was asked to steer the ceramics studio at the arts center at the Oklahoma State Fair Park. After building more experience in teaching and studio management there, he opened Paseo Pottery in a building formerly used as a laundry and cleaners in the Historic Paseo Arts District in Oklahoma City. Rosebrook continues to teach and create his own works of art at Paseo Pottery.

His large scale public works can be found in many locations around Oklahoma City including the Chamber of Commerce and Oklahoma Judicial Center buildings. In 2012, the Paseo Artists Association honored Rosebrook with the Michi Susan Award for his encouragement of others.