Narcho's Blues
by Jim Waid
Acrylic on canvas
Dimensions: 84 x 132 x 2
Gift of Robert Greenberg, 2008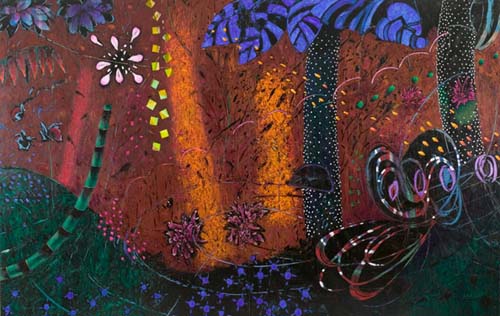 The Artwork
This large diptych, like many of Jim Waid's work, is a lively abstract composition with a landscape theme. Brightly colored organic shapes mix with floral motifs and imagery reminiscent of tree forms. Measuring eleven feet wide and seven feet tall, this fantastical scene presents the viewer with imagery that is familiar yet mysterious.

Narcho's Blues was titled in memory of a friend and fellow artist, Dean Narcho, who passed away while Waid was in the process of making this painting.
The Artist
Jim Waid was born in Elgin, Oklahoma. He earned his Bachelor of Fine Arts from the University of New Mexico in 1965 and his Master of Fine Arts from the University of Arizona in 1971. From 1971 to 1980, Waid was instructor at Pima Community College in Tucson, Arizona. Since that time he has been a visiting artist for such universities as the University of Oklahoma, University of Texas at San Antonio, University of Idaho, and the Arizona State University. In 1977, he was commissioned by the City of Tucson to paint a mural for the Columbus Branch Library. In 1985, he was was awarded a Visual Arts Fellowship from the National Endowment for the Arts. The General Services Administration commissioned Waid to paint mural for the Evo A. DeConcini U.S. Courthouse and Federal Building in Tucson, Arizona in 1997. His work is included in more than 40 permanent collections including the JB Speed Art Museum in Louisville, Kentucky, Phoenix Art Museum in Arizona, Albuquerque Museum of New Mexico, San Antonio Museum of Art in Texas, Tampa Museum of Art in Florida, Fred Jones Jr. Museum of Art at the University of Oklahoma, and the Metropolitan Museum of Art in New York. Waid has had numerous one-person shows at universities, galleries, and art institutions across the U.S. since 1977.