Distant Fog Bank
by Eugene Bavinger
Acrylic and glass transfer onto canvas
Dimensions: 44 x 59
Gift of Gail P. Meyer, 2007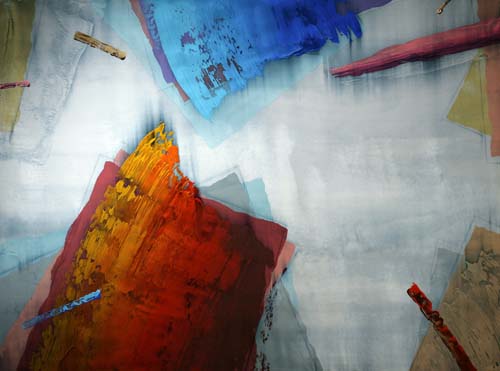 The Artwork
Distant Fog Bank represents Eugene Bavinger's innovation. He believed in the importance of experimentation and creating work that could be recognized for its individuality. He worked to advance the genre of abstract illusionism and pioneered a painting process in which he first applied acrylic medium and layers of paint to glass before setting a canvas to the painted surface. After the paint had dried, he would meticulously remove the painted canvas from the glass surface. As a result, the painting would have a smooth and highly reflective surface. Within the painting itself, Bavinger created compositions of light and color with forms that created the illusion of depth.


The Artist
Eugene Bavinger's expressive interest in form led him to become one of Oklahoma's most experimental and technically proficient artists. He pioneered his own painting method known as 'glass' paintings.

A native of Sapulpa, Oklahoma, Bavinger was pursuing art studies at the University of Oklahoma in 1942, when his academic career was interrupted by military duty. He served as a pilot instructor in the Air Force and this experience directly affected not only his outlook on the world but also his art. He returned to OU where he received his bachelor's of fine arts in 1946.

In 1947, he began his teaching career in the art department of the University of Oklahoma. As a respected artist and educator, he served the university in many roles over the next 20 years, including as Chair of the art department from 1950-1955 and as the Director of the university's museum of art from 1957-1959. From 1960-1961 he studied at t the Institute Allende, San Miguel de Allende, Mexico, while on sabbatical. He continued to teach at OU until his retirement in 1980.