A Mercedes Is For People Like Us
by William Bennett Berry
Acrylic on canvas
Dimensions: 60 x 66
Gift of the artist, 2007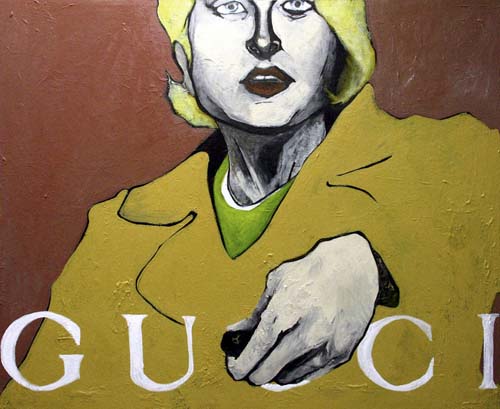 The Artwork
A blonde-haired woman cloaked in yellow faces the viewer showing her hand which grasps keys presumably to a Mercedes-Benz. The top of the canvas bisects the forehead of the woman creating a composition reminiscent of advertising. By painting the word "Gucci" across the lower horizontal plane which like most of the canvas is painted in large areas of flat color, W. Bennett Berry enforces an idea of high fashion, or possibly consumerism, in this work which is a modern take on the Pop Art movement.
The Artist
W. Bennett Berry studied at Pont-Aven School of Contemporary Art in Brittany, France. Berry received his Bachelor of Fine Arts from Denison University in Ohio and his Master of Fine Arts from the University of Oklahoma in 2002 and 2005, respectively. His work has been shown in solo and group exhibitions in California, New York, Kentucky, and France. His work has appeared in numerous publications including Southwest and California Homes. Known for painting in several distinct aesthetics, his work ranges from fauve/impressionist/post-impressionist inspired landscapes, to minutely detailed city scenes, to large-scale figurative pieces that are more reminiscent of the baroque period with a pop art influence.

Berry's work is included in numerous public and private collections throughout the nation such as MidFirst Bank (Oklahoma), the Muckenthaller Museum and Cultural Center (California), Denison University (Ohio), and the University of Oklahoma Health and Sciences Center.