Bender No. 2
by Bob D. Barker
Acrylic on shaped canvas
Dimensions: 73 x 64
Purchased through a National Endowment for the Arts grant, 1971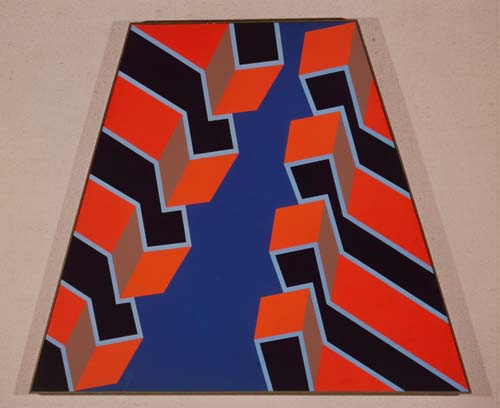 The Artwork
"The painting, Bender No. 2, is one idea in a series of thoughts concerning the ambiguity of space, form, and color. It is precisely organized painted surface," stated the artist.

By using the complementary colors of orange and blue and the contrast of the dark and light, the artist creates the illusion that the orange shapes are emerging from the canvas. Painted on a canvas with the shape of a truncated isosceles triangle, the orange geometric shapes seem to approach each other near the top of the canvas creating a perspective which implies the shapes will soon merge.

The Artist
Born in Ardmore, Oklahoma, in 1940, Bob D. Barker earned his Bachelor of Arts from Oklahoma State University and his Master of Fine Arts from the University of Oklahoma. With other prominent Oklahoma artists Dee J. Lafon and Robert Seig, he was a Professor of Art at East Central University. These three artists became known as 'the Ada Trio' and exhibited together throughout the region. Barker also served as an instructor at the University of Oklahoma. His work has been included in group exhibitions throughout Oklahoma and the United States including the Oklahoma Art Center, Museum of Art at the University of Oklahoma, and Lawrence Collection.