The Garden of the Bachianas
by Gloria Abella
Acrylic on canvas
Dimensions: 42 x 42
A gift of Ron Duncan Hart, 2007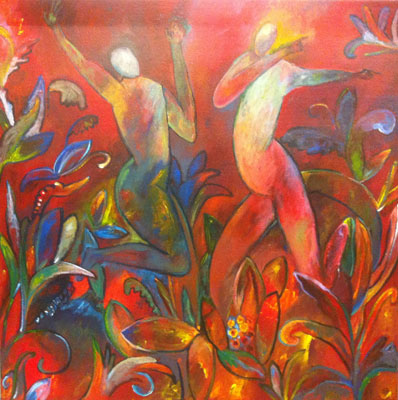 The Artwork
In this prominently red acrylic on canvas work, two figures appear to dance in the midst of large blossoming flora. As the title suggests, these figures may be entranced by the Bachianas brasileiras, a series of suites by Brazilian composer Heitor Villa-Lobos who fused popular and folk music with style of Johann Sebastian Bach. With sweeping and curving lines and repetition of shapes, Abella creates a painting with rhythm and harmony. The result is a painted composition that appears as a visual symphony.
The Artist
Gloria Abella was born in Bogota, Columbia, in a Sephardic family immersed in art and music. She has a Master of Arts degree from The State University of New York at Buffalo as well as graduate studies in anthropology and pre-Columbian art from the National Autonomous University of Mexico. She also studied with Larry Rivers and John Cage, two of the most important icons of twentieth-century art.

Abella has an international career, exhibiting in individual and group shows in the U.S., Israel, Japan, Latin America, and Europe. She has exhibited internationally in museums and galleries from Christie's in London to Louis Stern in Los Angeles, the Carrillo Gil Museum in Mexico City, and the Bellevue Art Museum in Seattle. Her work is in the collections of private individuals, museums, and corporations both nationally and abroad, ranging from the National Museum of Colombia to Occidental Petroleum, the Royal Bank of Canada, and the Alcoa Corporation. Abella has been a visiting artist in England at the University of Essex and the Camberwell School of Art, London, the University of Xinjiang, China, and the Mishkan Omanim in Herzlya, Israel. She has also been a professor of art at universities in Puerto Rico, Colombia, and the U.S.

Abella has participated in prominent exhibitions with the Latin American Graphic Biennial, UNESCO, and National Endowment for the Arts, in addition to receiving Oklahoma Visual Arts Coalition's Award of Excellence and first prize by the Leslie Powell Foundation Biennial.