Agnes Martin
by Charles R. Rushton
Silver gelatin print
Dimensions: 8 x 10
Gift of the artist, 2007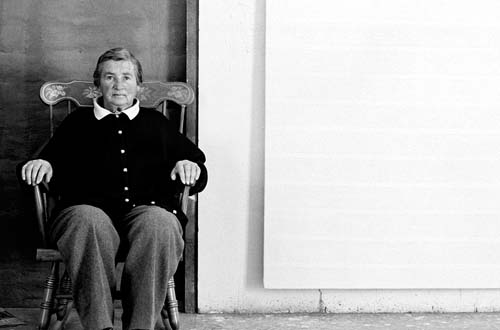 The Artwork
Agnes Martin is a silver gelatin print of the Canadian-born American artist. In this interior scene, Rushton has framed his photographic composition in such a manner that artist occupies the left side of the image while her artwork occupies the right side. This division of subject matter is contrasted further through his use of light and dark. The right side of the composition is nearly white as the light reflects off the minimalist Agnes Martin's artwork. The left side of the photograph is much darker in tone from Agnes Martin's attire to the wall behind her.


The Artist
Charles R. Rushton studied photography under well-known photographers Fred Picker and Oliver Gagliani and photographic portraiture under portrait photographers, Arnold Newman and Rodney Smith.

A life-long learner and respected teacher, Rushton holds a Bachelor of Arts from Lawrence University, Master of Arts in Teaching from St. Thomas University, Master of Arts in Library Science from the University of Minnesota, and Master of Fine Arts in Photography from the University of Oklahoma. He has taught photography classes for Eastern New Mexico University, Firehouse Art Center in Norman, Moore-Norman Technology Center, Oklahoma City Community College, and the University of Oklahoma.

Rushton began taking pictures as a child and set up his first darkroom at age 11. In his teens, he was a freelance photographer for his hometown newspaper, The Rochester Post Bulletin. From 1976 to 1978, he served as head of audiovisual services at Eastern New Mexico University. From 1978 to 1983, he served as director of district media services for Belen Consolidated Schools in Belen, New Mexico.

Between 1980 and 2000, Rushton photographed 124 New Mexico artists and photographers. The Oklahoma State Art Collection holds three of these portraits and the Albuquerque Art Museum purchased 84 of these portraits for its permanent collection. Thirty-eight of his photographs of American photographers of New Mexico are in the collection of the National Museum of American History at the Smithsonian and his portraits of Agnes Martin and Luis Jimenez are in the collection of the National Portrait Gallery. Rushton's works have also been purchased by the Mabee-Gerrer Museum of Art in Shawnee and the Fred Jones Jr. Museum of Art at the University of Oklahoma in Norman, in addition to numerous private collectors. His photographs have appeared in numerous periodicals and monographs of regional national and international importance and numerous one-person and group exhibitions.