American Duck
by Jackie Meeks
C-print
Dimensions: 8 x 12
Gift of the artist, 2006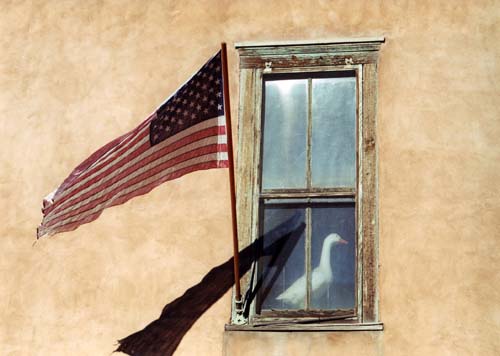 The Artwork
American Duck wonderfully illustrates the quirkier side of contemporary American culture. With the sun reflecting off the upper pane of glass and the waving flag casting a hard shadow on the building's stucco exterior, the photograph presents the viewer with an image of a hot and windy day. The blue of the window draws the viewer's attention near the center of the composition. Protected from the glaring sun and gusty winds, a duck peers out seemingly curious of the outside world.
The Artist
Jackie Meeks was raised in upstate New York as well as Edmond, Oklahoma. She studied graphic advertising design at Central State University (now the University of Central Oklahoma). Originally, Meeks focused her artistic pursuits on drawing, collage, and jewelry-making. Then in 1995, she purchased her first professional camera, thus beginning her artistic journey through the lens of a camera. Her photographic works tend to be focused on subjects of nature, especially animals. Along with her husband and fellow photographer Jim Meeks, she enjoys traveling to England and Ireland where they use their cameras to capture scenes of everyday life, streetscapes, and architectural details.

In 2006, Meeks graduated from Oklahoma State University-Oklahoma City and earned her Registered Veterinary Technician license in 2007. She is currently employed at OSU-OKC in the Department of Veterinary Technology and continues to pursue her current artistic passions of photography and fiber art.