After Dinner
by Rodger Randle
Archival pigment print
Dimensions: 11 x 14
Gift of the artist, 2006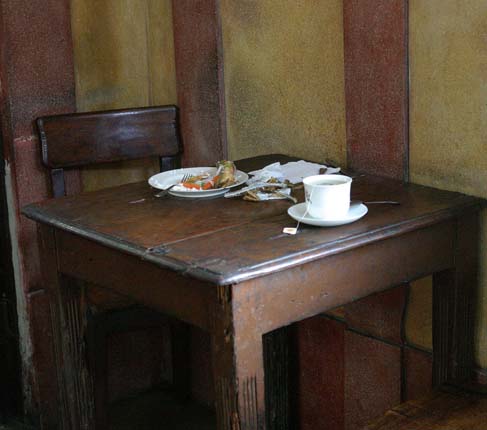 The Artwork
Rodger Randle has traveled greatly and captured images from around the world. Randle considers much of his work 'cultural photography,' or photography that examines the traits and qualities of a culture. With this digital photograph, Randle presents the viewer with a small wood table with a small plate and cup resting atop. The viewer may then discern information from the photograph regarding the use of these of these items. This photograph was taken in July 2003 in Lima, Peru and was printed on archival paper in 2006.


The Artist
A native Tulsan, Rodger Randle is a graduate of Tulsa Public Schools and the University of Oklahoma. He earned his Doctor of Laws from the University of Tulsa. Randle began his career in public service in Brazil in the 1960s. At the age of 27, Randle was elected to the Oklahoma House of Representatives. Two years later in 1972, Randle was elected to the Oklahoma Senate. He was re-elected in 1977, 1980, and 1984. Twice during this tenure, Senator Randle was elected President Pro Tempore of the Oklahoma State Senate. In 1988, Randle was elected Mayor of the City of Tulsa. Two years later ,he was re-elected by the largest margin in Tulsa's history.

In 1992, Randle accepted a position as President of the University Center in Tulsa. Six years later, he accepted a position as professor in the Graduate College of the University of Oklahoma. In addition to his service in government and education, Randle has served in many civic activities including as the President of the Tulsa Philharmonic and on the executive committee of the Board of Directors of the Tulsa Ballet Theatre. Additionally, Randle has traveled the world taking cultural photographs. In 2007, his work was exhibited at the Oklahoma State Capitol.