Untitled (Lebanon 2002)
by M. Teresa Valero
Color photograph
Dimensions: 9.25 x 14
Gift of the artist, 2006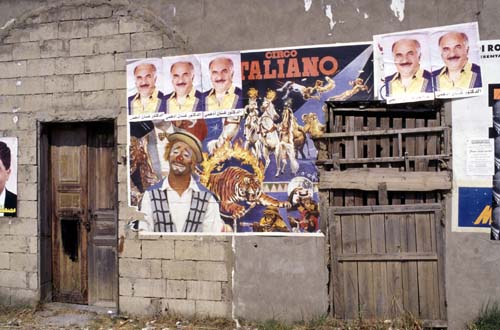 The Artwork
This digital photograph captures the relationship a community has with its history and its current events. The condition of the utilitarian structure implies that it has not been fully functional in some time, yet the access to the doorways informs the viewer that building has not been abandoned. Despite its former use, the structure seems to have become a billboard to advertise the events of the day.
The Artist
M. Teresa Valero, a native of Venezuela, is Applied Associate Professor of Art, Graphic Design at The University of Tulsa (TU) where she is also the Director of the School of Art. She is co-founder and Creative Director of Third Floor Designs, a student-run design studio that provides high-quality design services for nonprofit organizations in Tulsa and surrounding areas. In 2001, she was awarded outstanding teaching award by The University of Tulsa, and again in 2003 by the Henry Kendall College of Arts and Sciences at TU. In 2007, Valero received the Pinnacle Award for the Arts and Humanities presented by the Women Foundation and the Mayor's Commission on the Status of Women.

In addition to her teaching duties, she works as a photographer and graphic designer, winning many awards in advertising and design including the Tulsa Addy Awards, Graphex, and Creativity Today. Valero's photographs have been exhibited in Kansas, Missouri, Oklahoma, Arizona, Texas, Georgia, and Arkansas; overseas her work has been seen in Venezuela, Spain, Lebanon, Syria, and Canada. She is a past and current president of Art Directors Club of Tulsa and an active member of the Tulsa arts community. She is a board member of the Performing Arts Center Trust for which she holds two positions, Vice-chair and Program Committee Chair, the YWCA of Tulsa, Living Arts of Tulsa, Hispanic Affairs Commission for the City of Tulsa, and the American Institute of Graphic Arts (AIGA) on the Cross-cultural Design, and contributes to many local community and arts organizations.

She has curated many exhibitions most recently "Journey to America," a documentary photography show that is housed at YWCA Multi Cultural Center and recently had a second opening at the Williams Company in Tulsa. "Journey to America will be traveling across Oklahoma."

Valero graduated from the University of Kansas with a Bachelor of Fine Arts in Graphic Design and Art History, and later received a Master of Arts in Art History. She lives in Tulsa with her husband Ghayth Coussa and her son Valerio.