Bricktown Trolley
by Rick McClure
Oil on linen on board
Dimensions: 24 x 30
Gift of the artist, 2006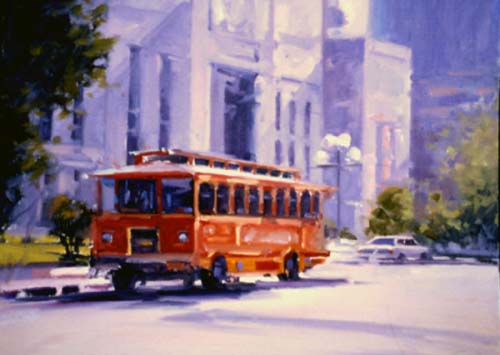 The Artwork
In this oil painting of the trolley making a stop in downtown Oklahoma City, the artist has painted the background with muted colors allowing the vivid colors of the trolley to become the focus of this composition. The painting is rendered with an impressionistic approach with its soft edges and masterly handled representation of light and shadow. The green sunlit trees provide a complementary balance to the red paint of the trolly. With the subtle depiction of a cloud of exhaust behind the idling car, the viewer may imagine this scene taking place on a cool spring morning.


The Artist
Rick McClure attended the Southwestern Oklahoma State University. He is a signature member of the American Impressionist Society, National Academy of Professional Plein Air Painters, and the Oil Painters of America.

An award winning "Plein Air" painter and teacher, Rick McClure has been painting professionally for more than 25 years. Throughout his career he has enjoyed success with a variety of media including contemporary watercolor and large acrylic figurative works. However, his true passion is found in capturing both cityscape and landscape. McClure has captured numerous awards including recognition at the American Impressionists Society National Exhibition, 71st Grand National Exhibition at the Salmagundi Club, and the Best of Show at the Cincinatti Art Club's ViewPoint 2003. His free, painterly approach to recording locations in America and abroad has become popular with collectors nationwide.

His work is part of numerous corporate and private collections and he is represented by Fountainside Fine Art Gallery, Wilmington, NC, Wells Gallery, Charleston SC, Kennedy Gallery, Raleigh, NC, Chasen Galleries, Richmond, VA, and Shadid Fine Art in Edmond, OK. McClure currently divides his time between painting, travel, and teaching plein air workshops throughout the United States.