I'm On To Oklahoma
by Martha Wagner
Rug-hooking, fiber, hand-dyed wool on a linen backing
Dimensions: 27 x 52.5
Gift of Dr. Susan Hakel, 2006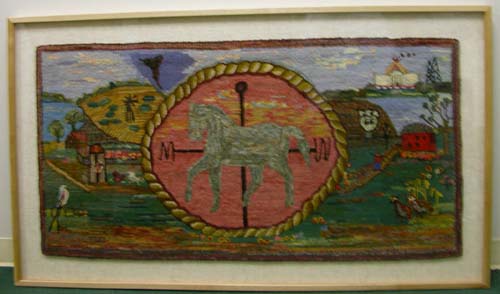 The Artwork
Using rug hooking, a technique which is becoming increasingly rare, Martha Wagner hand-dyed and cut all the wool strips that comprise I'm On To Oklahoma. Using both flat pictorial design and skillful modeling with color, Wagner created a composition that makes many references to Oklahoma. From Arcadia's round barn to Rush Springs watermelons, Wagner filled her creation with iconic and often whimsical imagery of Oklahoma heritage.


The Artist
Martha Wagner learned the craft of rug-hooking from her mother in the 1940s in State College, Pennsylvania, but did not pursue it passionately until she studied under nationally known folk artist Barbara Eschbach in Schenectady, New York, in the late 1970s. Her desire to create her own color palette rather than depend on the wool dyed created by others, Wagner became an expert in overdying her own wool gleaned from thrift store skirts and crafting her own designs. At the first Fiberworks exhibition in Oklahoma City, Wagner was awarded Juror's Choice for her artwork.

Wagner was a longtime member and officer of the Oklahoma Handweavers League, now known as the Fiber Artists of Oklahoma. Wagner's craftsmanship is greatly respected by fiber artists throughout the region, and she credited with teaching many Oklahoman fiber artists the dying process. Her work is included in many private and public collections including Integris Health.